Torres 20 The Art of Paring with Vicky Sevilla
"Without tradition, there's no innovation". Said with conviction by Vicky Sevilla, the youngest chef in the country to hold a Michelin star, and who's collaborating with Torres Brandy.
Torres Brandy and chef Vicky Sevilla join forces in Art of Paring, a gastronomic partnership that unites Torres 20, one of the world's most highly acclaimed brandies, with haute cuisine. 
What sort of dishes pair with Torres 20 Brandy? The Valencian chef reveals her chosen menu, one that spotlights local produce created especially for the occasion, and her Mediterranean roots and innovative vision.
"ALL THE BEST DISHES ARE SLOW COOKED – SO WE HAVE A LOT IN COMMON WITH TORRES 20 BRANDY, BECAUSE IT'S A BRANDY THAT SPENDS MANY YEARS QUITELY MATURING IN THE BARREL."
Vicky Sevilla might be young, but she's a chef with very clear ideas. At Arrels, her restaurant in Sagunto (Valencia, Spain), she serves signature cuisine based on tradition and quality produce that's inspired by the Mediterranean. An innovative cuisine that carries the stamp of her own character and personality. 
It's not by chance that her restaurant is located in a town in Valencia – it's a declaration of intent. As is its name: Arrels means roots. Indeed, as a chef, Vicky is inspired by family recipes and dishes, and in her childhood memories, which has led her to transform them into innovative dishes that not only delight the palate, but also look and smell amazing. A well-rounded gastronomic experience.
"If you want to create cutting edge cuisine, you always need to take tradition as your starting point. You need to understand the product really well before you start to look at ways of doing something new and exciting with it. Without tradition, there's no innovation."
Carefully selected top-quality products are what make her dishes unique. They're cooked slowly, with lots of attention and TLC throughout the process. And there are quite a few similarities with Torres Brandy.
"All the best dishes are slow cooked – so we have a lot in common with Torres 20 Brandy, because it's a brandy that spends many years quietly maturing in the barrel." – Vicky Sevilla
To celebrate this partnership, the chef has created dishes that pair to perfection with different cocktails made with Torres 20 Brandy. Dishes that celebrate and enhance the subtleties of the brandy, always with great respect for individual flavours, and that are prepared with exclusive local produce such as authentic bluefin tuna. Pairing cocktails with food is becoming ever more popular. Seeking balance, and that perfect combination between a dish and the drink that goes with it. 
The kitchen at Arrels is protected by the ancient stone walls of what was once the stables of a 16th century mansion in Sagunto. In this historical setting, Vicky invites diners to enjoy the gastronomic experience she's created in the form of a tasting menu based on seasonal produce. And she plans to keep on growing. 
When gastronomy and Torres 20 Brandy come together the magic happens, with unique combinations and pairings. 
Torres 20 is a symbol of both tradition and innovation. It was one of the first aged brandies to incorporate French grape varieties such as Ugni Blanc. This is a brandy that's aged for many years in French oak barrels, and it has been declared the best brandy in the world at competitions like the International Wine & Spirit Competition. With a deep, warm aroma, and hints of vanilla, cinnamon and nutmeg, it's intensely velvety on the tongue, with a short finish with subtle notes of oak.
A brandy that pairs to perfection with chef Vicky Sevilla's menu – a feast for the senses awaits you.
APPETIZER
Hot liver buñuelo paired with Torres 20, lime and mint.
STARTER
Wild mushroom mousseline with kohlrabi, cocoa and coffee, and Ajo Blanco, bottarga. Paired with Torres 20, Vermouth and Orange Bitters.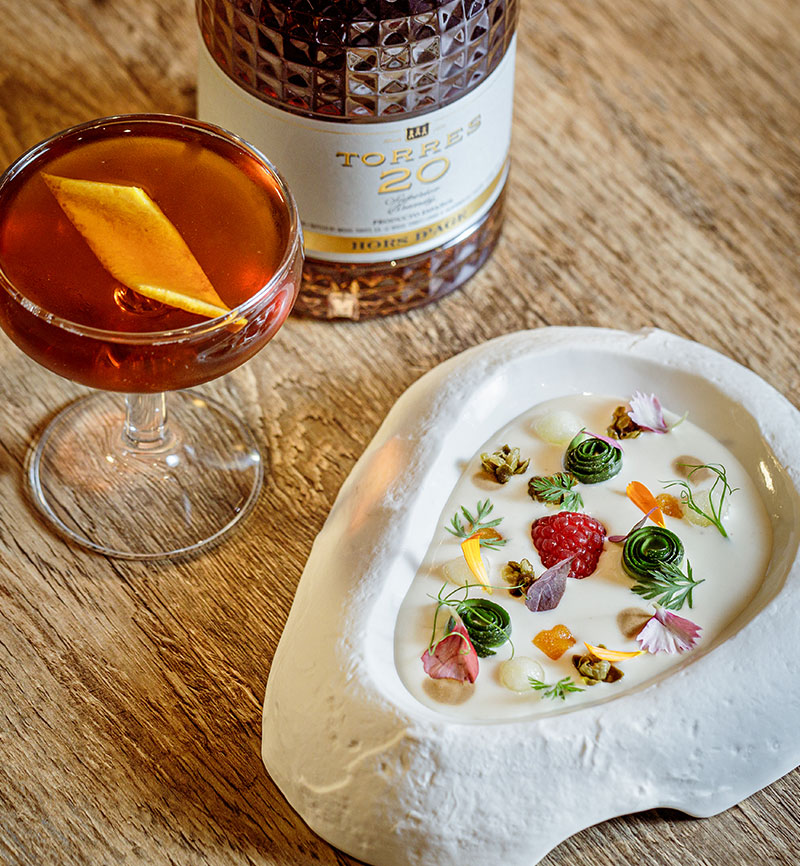 MAIN
Barbecued authentic bluefin tuna, confit red crystal pepper, roasted garlic praliné, and Duck Royale and smoked eel, foie and pistachio nuts. Paired with Torres 20, lime and ginger.
DESSERT
White asparagus ice cream, turrón, lemon, Torres 20 brandy jelly. Paired with an Old Fashioned Cocktail by Torres 20.
Collaboration between Torres 20 and Vicky Sevilla at the Arrels restaurant in Sagunto (Valencia, Spain).