Barcelona by Javier Reynoso
Great gastronomy, and gems waiting to be discovered… Javier Reynoso takes us on a trip to Barcelona, and reveals all about those places that are a must for foodies and cocktail lovers.
Argentinian by birth, and Barcelonés by adoption, Javier Reynoso, Global Brand Ambassador for Torres Brandy knows Barcelona like the back of his hand. He fell in love with the city, and is keen to share with you the restaurants, cocktail bars, pubs and shops that inspire him and are a part of his day-to-day life. If you're asking yourself. "What can I do in Barcelona?" Here's your answer. All sorts of things, from checking out a poster shop like Posters Verkerke, to spending some time in one of the most innovative and creative cocktail bars in the world. Leave tourist Barcelona behind and explore the real Barcelona, the one that belongs to the people who live there.
If you have an enquiring mind, and love the good life, then you're in luck! Javier Reynoso takes us on a trip to Barcelona, and reveals all about those places that are a must for foodies and cocktail lovers.
CULINARY EXPERIENCES
IN BARCELONA
Our visit begins with a stroll around the Born neighbourhood. A place with eight centuries of history behind it, and narrow streets that invite you to wander, and to discover its shops, restaurants, and hidden corners. Along the way we find a traditional shop, rather like a warehouse, that specialises in rice and nuts – a place with bags of charm and an eighty-year history. An iconic shop that sells a huge variety of pulses, nuts and top quality varieties of rice and chocolates, presented in bulk in sacks that will transport you to the Barcelona of the past, a city where life was lived at a much slower pace. It's said that if you can't find a particular type of nut in Casa Perris, it simply doesn't exist. So maybe pay a visit, just to check.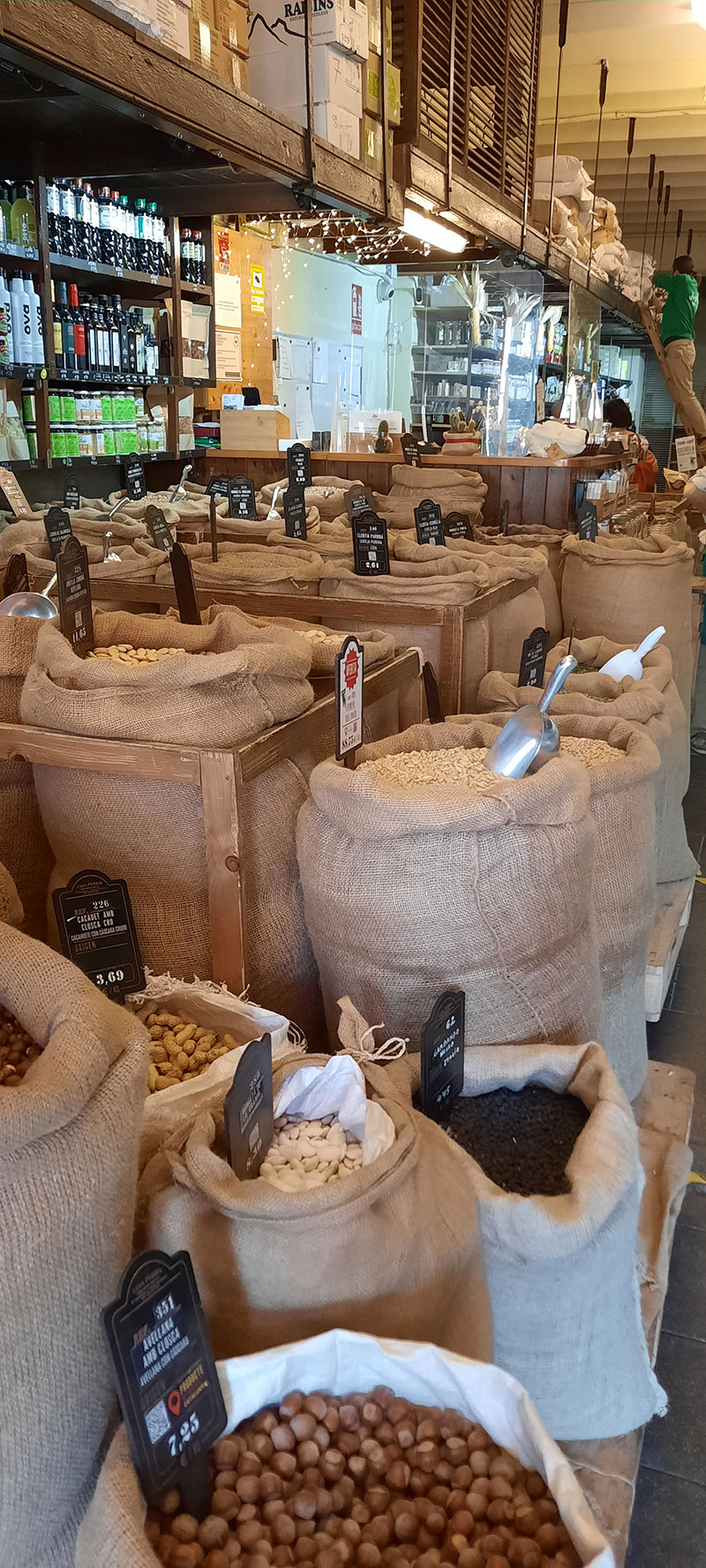 A few yards from Casa Perris stands another emblematic establishment where you can try traditional Catalan dishes with a modern twist. We're talking about Casa Delfín, a restaurant serving fresh fish and home-made dishes prepared using quality produce, and that's open all day, from 8 in the morning until midnight, so you have no excuse for not stopping by. The restaurant's motto is a mission statement in itself: "A lifetime of making our customers happy". Sit yourself down on the terrace, and enjoy.
We leave the Born neighbourhood behind and head for the Escribà patisserie at Rambla de les Flors 83. Another must. The internationally renowned master pastry chef won't only delight you with his home-made cakes and chocolates, his other deliciously sweet creations will have your mouth watering too. His restaurant and patisserie are located in the old Casa Figueras building, a shop with a stunning façade in the Catalan modernist style. A feast for all the senses – guaranteed.
The fact that the city is a great place to relax for a few days is hardly news. But the fact that it's home to the third best cocktail bar in the world might indeed come as a surprise. Barcelona has won a place on the list of the best 50 cocktail bars on the planet, thanks to Paradiso. A real source of pride. 
TOP COCKTAIL BARS
IN BARCELONA
When the sun goes down, it's back to the Born, that Barcelona neighbourhood that mixes culture with leisure and pleasure. And here you'll find another place that's a must during your visit: Paradiso, the third best cocktail bar in the world, a prize awarded by the renowned 50 Best Bars, where bartenders from all over the world voted this Barcelona cocktail bar onto the world podium. 
And yes, this speakeasy really is a paradise, with a real commitment to sustainability. The owners understand just how important it is to change, and that the cocktail bar too can do its bit to reduce negative environmental impact on our planet. Paradiso has its own pioneering programme for reducing the amount waste it generates as a bar, as well as working on a project in its very own lab with the aim of becoming a 100% sustainable cocktail bar. Hats off to them! We're not going to say any more here, because the fun's in the experience. Step inside (if you can find the door) and let yourself be amazed by the creativity of Giacomo Giannotti, the inspiration behind Paradiso. Now, the question is, which cocktail? Well, as this is a city bathed by the waters of the Mediterranean, we recommend a Mediterranean Treasure made with Torres 15. Shhhh, see you in the bar!
With the night ahead of us, we're staying in the same neighbourhood, and heading for Creps al Born. A cocktail bar with a young, relaxed vibe where you can enjoy craft cocktails like the refreshing Torres 15 & Ginger Beer, which pairs to perfection with a savoury crepe. Don't be fooled by the name, this is a spot where music takes over when it starts getting late.